Last September, I headed up to Seattle to spend three days at The International Food Blogger Conference with Louise. We had fun sampling different eats, drinks and spending time with local blogger friends as well as making some new ones!
IFBC mixed meal periods with sessions, with each breakfast and luncheon being accompanied by a talk, while dinner periods were set up like a party with hors d'oeuvres and drinks. During the day, you could pick between sessions on food and blogging topics, and there was an expo hall on the second night that gave attendees a chance to network with the brands in attendance.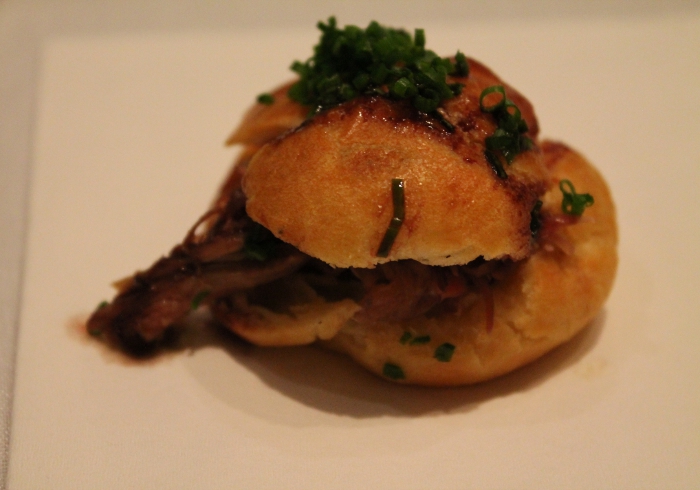 Breakfast was at 7 AM on the first day, with a full morning of sessions before lunch at 1 PM. Because of the length of time between meals, all of us foodies in the conference room were getting mighty hungry; and when the final session was a cooking demo from The Chef In the Hat Thierry Rautureau, we were all drooling as we could smell the delicious dishes he was preparing on stage. When it was finally time for lunch, I piled a ridiculous amount of food from the buffet onto my plate and chuckled at the irony of being so hungry during a food event.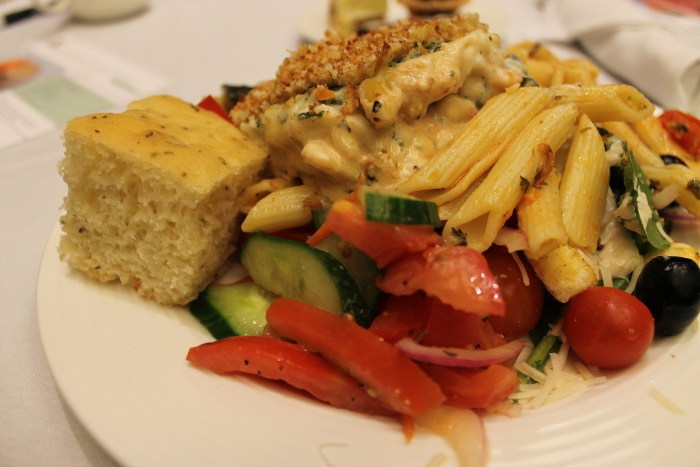 Lunch was hosted by Ninja Kitchen, who brought out celebrity chef Devin Alexander from The Biggest Loser to give us a demo of what the Nutri Ninja Blender DUO With Auto-IQ could do.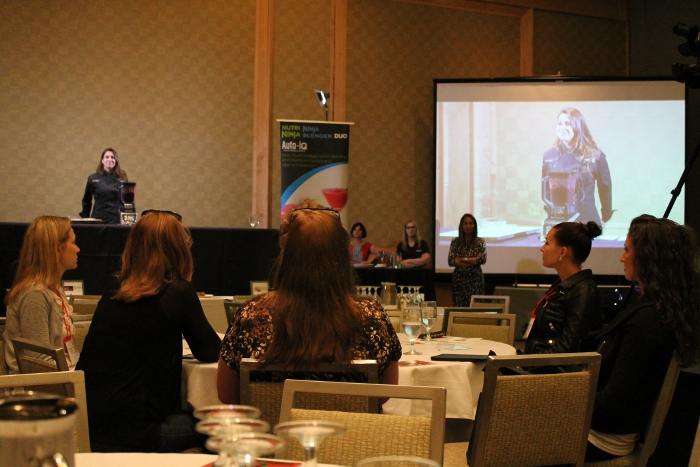 One of the big highlights for me was that a selfie I posted for Ninja's #AddMoreGood contest won me a Nutri Ninja Blender DUO! Talk about an amazing prize!!!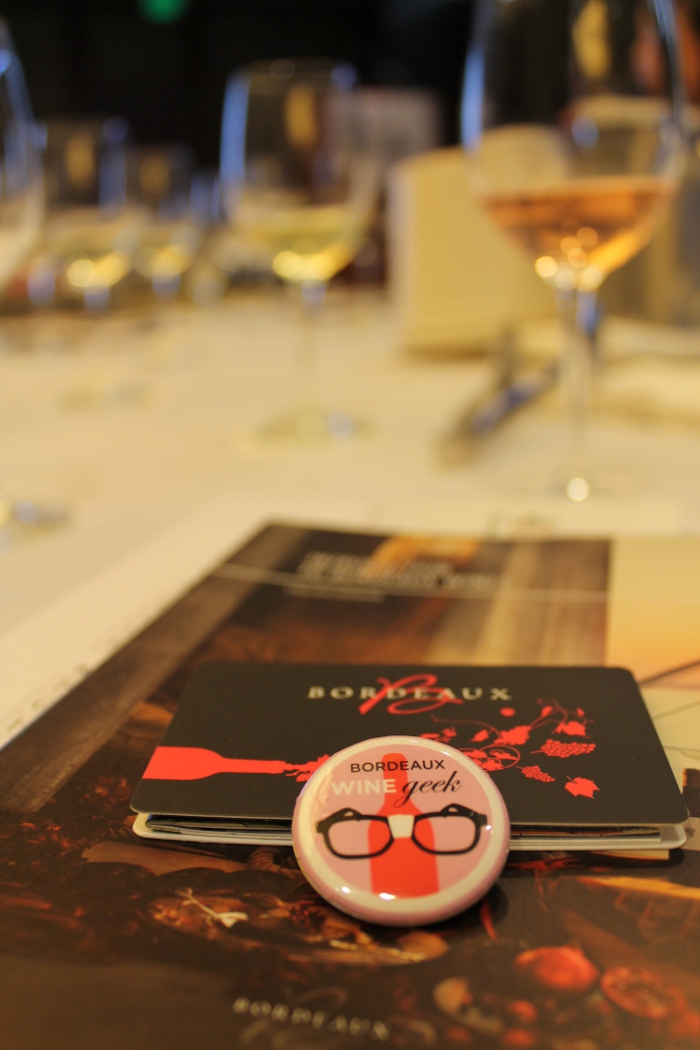 My favorite session was the wine tasting hosted by Bordeaux Wines. There was a talk going over the basics of pairing food and wine, and then we were broken up into teams and challenged to guess the flavors in the wines we were tasting.
Obviously, I did not win any trophies in this department, but the great thing about wine is that the biggest reward comes through the act of tasting itself.

Another amazing aspect to IFBC was the amount of swag given out in our goodie bags. This is what I came home with: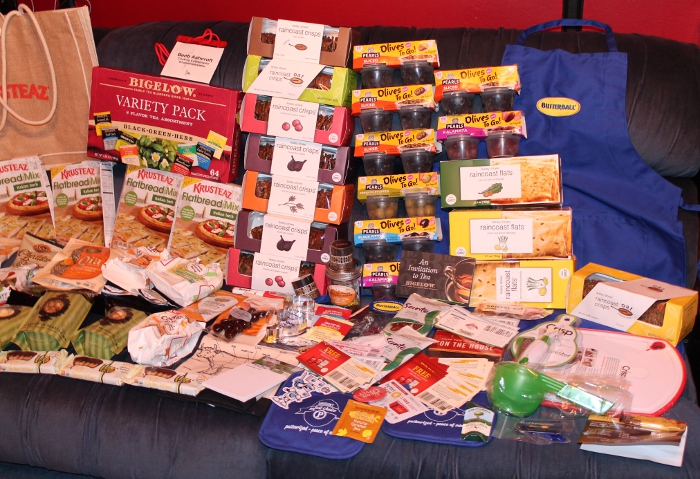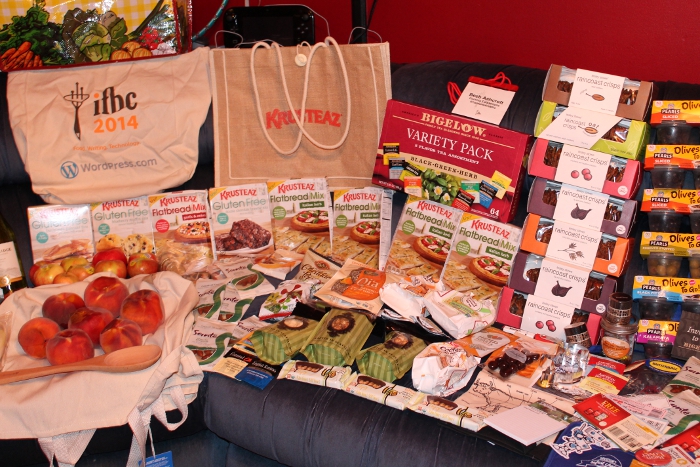 And no, I'm not a greedy swag hoarder! As often happens at local conferences, those of us who don't have to fly home can often take back more than others in attendance who are constrained by flights. You should have seen the pallet of peaches that Louise was given with an enthusiastic, "Here! Take these!".
And what you see pictured here isn't even all that I was given, as I gave quite a few boxes away on the train ride home. You see, I had a layover in Portland where I met up with family, so I loaded them up with some Krusteaz mixes and Aneto broth. I was quite a sight to behold as I sweated in my business suit, slowly lugging suitcases and bags full of heavy chicken broth through the train station! At one point, a nice man on the street saw me struggling as I walked towards my sister-in-law's car, and offered to help carry my bag. I thanked him with a box of chicken broth, naturally.

All told, IFBC was a fun and memorable adventure. I most loved the "Taste of Seattle" expo hall on the second night, where I had a chance to meet and network with the different brands in attendance. The sessions weren't necessarily on topics that related to me personally, although I appreciated all of the speakers; but I attend conferences primarily to meet people anyway. There were a few organizational snags, as there tend to be at conferences; for example, our attendee handouts emphasized that all conference-goers are warned not to drink to excess, but during the networking event the second evening, there was no water or non-alcoholic beverages anywhere – not even a fountain. At one point, I asked one of the brands at a booth if they knew where I could get some water, to which they replied, "I don't think there's any water, but here – have a glass of wine!" So wine and martinis were our exclusive source of hydration, which was fine with me, but I did find amusing given our warning about drinking.

And if you hadn't guessed already, you should be reading my blog with a tongue planted firmly in cheek!
Have you been to IFBC before?