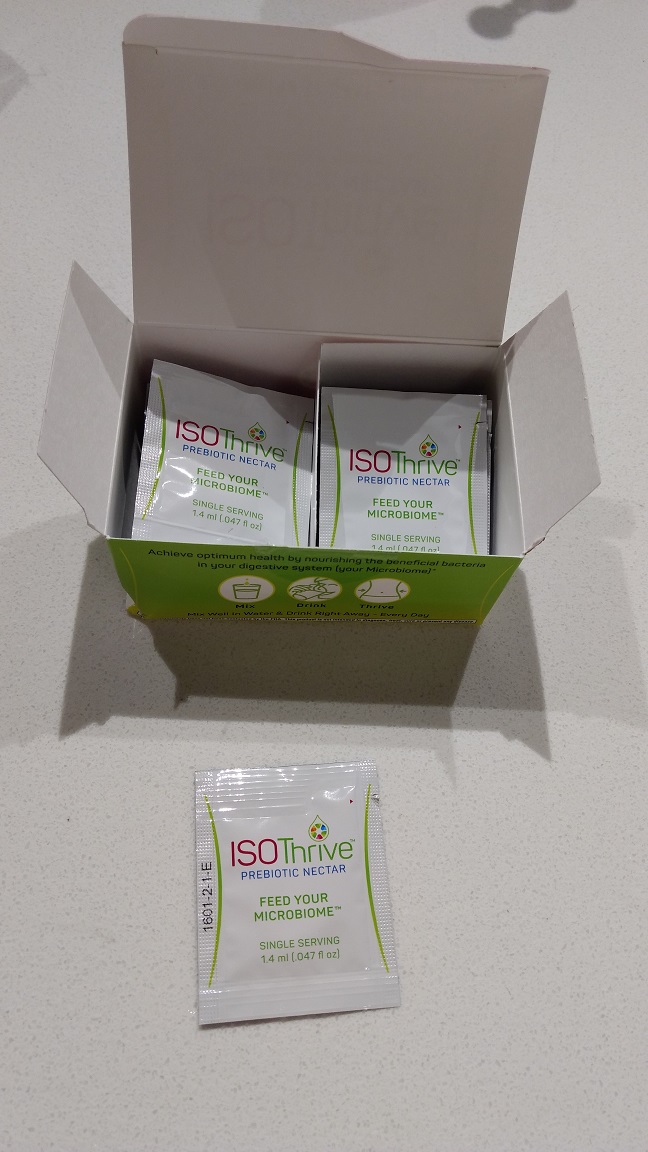 Samples provided for review. This article is not intended to diagnose, treat or cure any condition and is not intended as medical advice. 
As someone with a variety of food allergies and sensitivities, I'm always on the lookout for new ways to balance my bacteria. I love kefir and yogurt, but a lactose intolerance means that those aren't the right fit for me.
Enter IsoThrive's prebiotic nectar. It's non-allergenic; the small packets – taken once daily – can either be added to water, or drunk straight out of the container. They taste fruity and sweet, but not unpleasantly so.
Question: what's the difference between probiotics and prebiotics? Probiotics are live bacteria that help with digestion; prebiotics are food for the bacteria already in your gut.
Some more about the logic and approach of Isothrive:
"1. Go where probiotics can't
Most probiotics are neutralized in our stomachs and never make it to our lower digestive tract. To heal GI issues, the whole digestive system has to be re-balanced. A daily dose of fermented microFood like ISOThrive fuels the good bacteria to tackle the organisms that cause acid reflux, constipation, bloating, and gas.

2. Rebalance our diets the ancient way
Most modern diets lack nutrients to feed our "good" bacteria—more particularly, a very specific type of microFood that our ancestors got by eating lots of fermented vegetables or sourdough breads made from heirloom wheat. ISOThrive adds back this bacterially fermented food to rebalance our diets and keep our bacteria happy. (And, no, the sauerkraut on your hot dog or the kimchi on your bibimbap won't get you the the microFood you need—you'd have to eat several cups of fermented veggies every day to get the same amount of microFood in one 1/4 teaspoon of ISOThrive microFood!)

3. Prep our bodies to prevent disease
Because the modern Western diet is so deficient in specially fermented microFood, our starving "good" gut bacteria are "breaking bad"—adapting to use other energy sources (such as our gut lining), and making us sick. Fermented microFood restores this imbalance, enhancing immune function and staving off disease."
I've been taking the supplements about a week now, and am cautiously optimistic – my digestion does seem to have improved, though I started a probiotic vitamin regimen in the week leading up to taking Isothrive.
All in all, if you're having problems with food sensitivities and nutrition absorption, I recommend trying Isothrive to see if it works for your system.