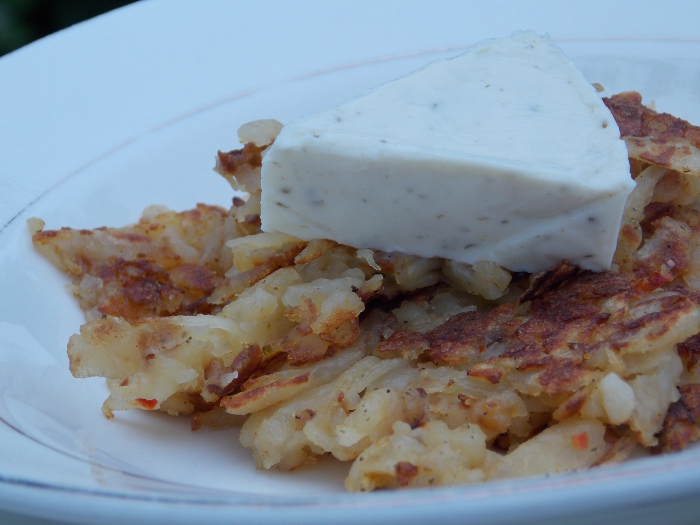 Samples provided by Simply Potatoes for tasting!
Simple meals are always a winner for me, and it's a bonus if I can avoid heating up the oven during the summer. I've been a fan of Simply Potatoes for a few years now after seeing how easy they are to prepare, so when I was offered a couple of bags to try out in my summer meal prep, I was all for it. For Sunday brunch – aka I've been up all night editing PHP templates and haven't had time to eat – we whipped up a batch of Simply Potatoes Southwest Style Hash Browns and served with a wedge of cheese on top. The cream of the cheese nicely complimented the spicy flavors in the hash browns!
I also tried out a bag of Diced Potatoes with Onion, which sounded really good to this onion-lover. According to the directions, you should cook this in a non-stick pan covered with a lid, and since I don't have any frying pans with lids that fit properly, I thought I'd just cook it in a pot with a lid instead. I didn't think through the fact that it is not a non-stick pot, so I ended up burning the dish. The potatoes were crispy, but oh well, they still tasted good.

I used olive oil in lieu of the vegetable oil suggested on both packages of Simply Potatoes, and also added some chopped up, leftover chicken to the pan of diced up potatoes to round it out as a meal. Just like Mama June, I'm a fan of multi-meals!
How do you keep your kitchen cool in the summer?
As a food blogger, I love to make delicious recipes - but real life doesn't always look like Pinterest! From the triumphs to the tragedies, this blog is dedicated to the funny side of cooking.
Latest posts by Beeb Ashcroft (see all)