I visited Catherine a few weeks back, and we had some grand culinary adventures, from egg tacos to fabulous pastries. But the most memorable began when we ran to the grocery store to pick up a few dinner supplies. While we were going through the checkout, Catherine noticed that the customers in front of us had some very unusual flavors of potato chips; with our curiosity piqued, we had to grab a few bags for ourselves: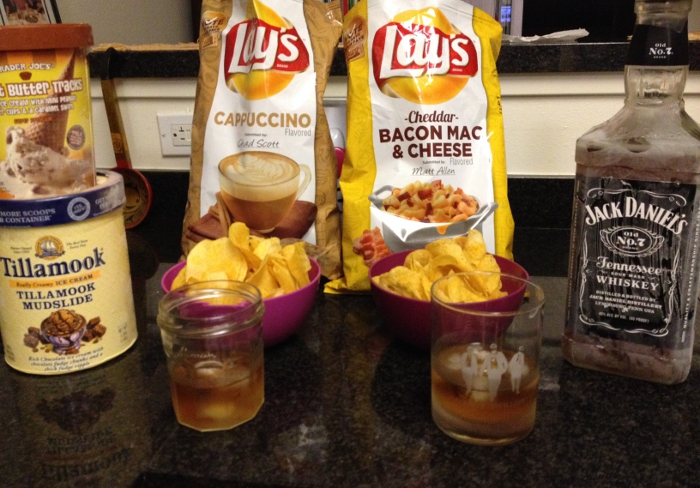 Why yes, those are cappuccino flavored potato chips. It sounded so disgusting that we simply had to try it; surprisingly, it wasn't bad, tasting more like cinnamon and sugar toast than anything else. But Catherine had a brilliant idea:
Ladies and gentlemen, may I present to you: Dessert Nachos. The recipe is simple: Layer a bowl with cappuccino chips, cover with mudslide ice cream, and top with a piece of See's Candy. I know this sounds horrific, but it was so, so good; eating the chips with the ice cream really brought out the coffee flavor. This dish is best enjoyed with Jack Daniels on the rocks and a viewing of Johnny Mnemonic, for those with truly refined palates like myself.