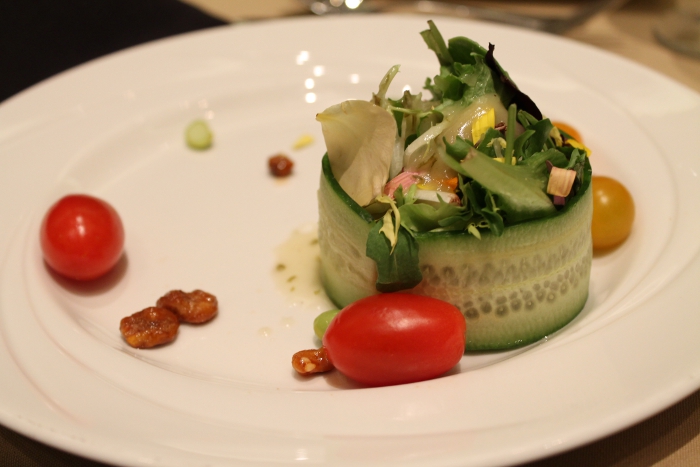 Travel, accommodation, and most food provided by The Chicago Auto Show. Pizza provided by me.

Earlier this month, I headed to the Windy City for the Chicago Auto Show. As tends to be the case when I travel, I sampled all kinds of interesting food during my trip!
When I arrived at the airport, I was met by a limo which took me to the hotel. It was stocked with beer and Tootsie Rolls – my kind of ride!
I stayed at the Hyatt Regency McCormick Place, where I found a package of Terry's Toffee: Lemon Paradise waiting for me. I love toffee and I'd never had a citrus variety before. Yum!!
To welcome us to the auto show, Nissan hosted a reception the first evening that featured a variety of appetizers, taco bar, and a slider bar.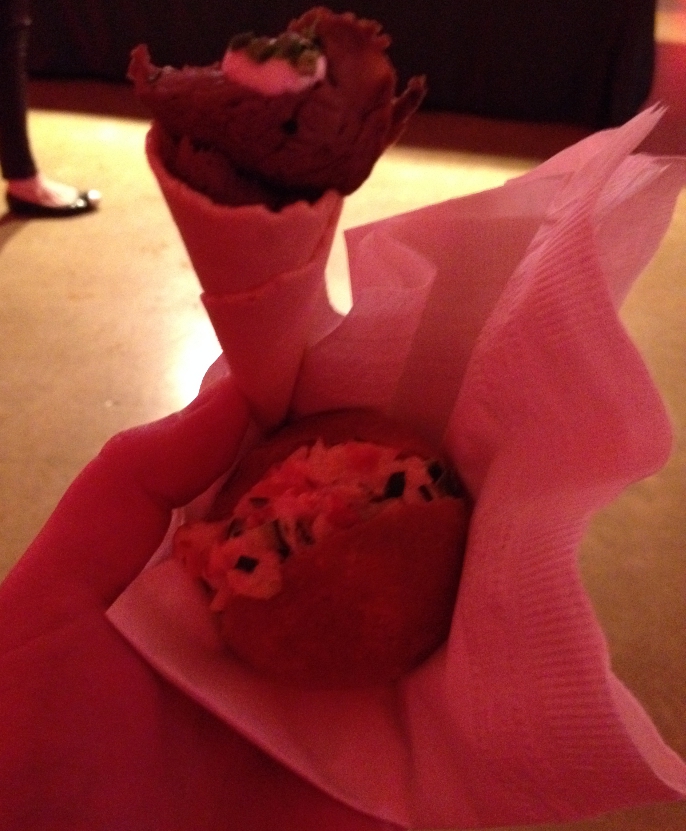 These were the first appetizers I tried when I arrived – yes, it's a terrible photo, but I was too hungry to care.

The dim, red lighting in the building made it so that I really couldn't tell whether the little cone the waiter handed me was a mini chocolate ice cream, or a savory cone filled with Gyro meat. I shrugged my shoulders and said, "We'll see" – and it was indeed beef and not ice cream. It was delicious, and also hilarious to not know whether I was about to taste meat or chocolate!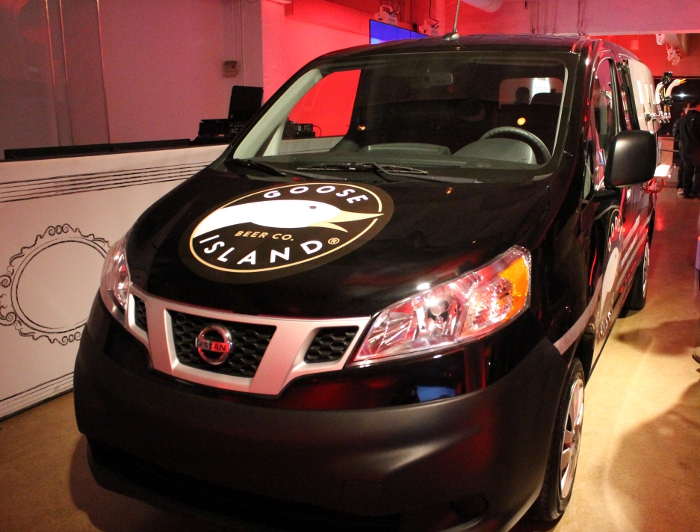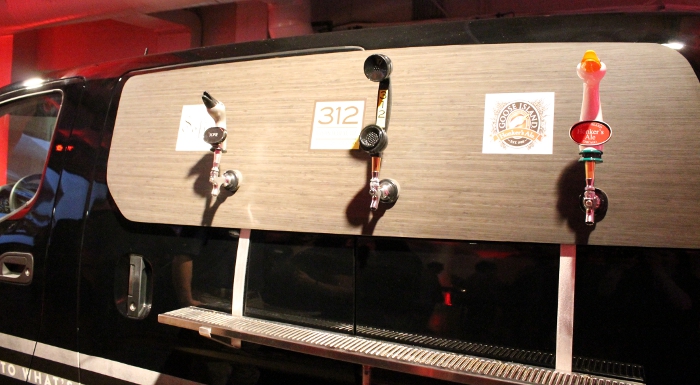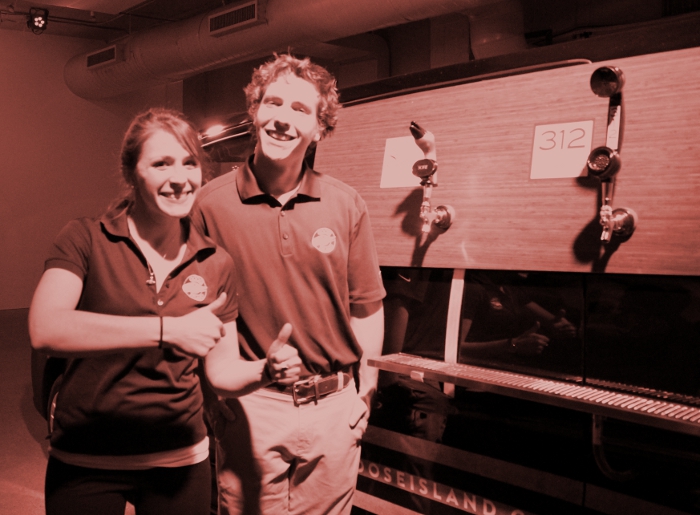 Another memorable part of the night was the fact that they had a beer van on hand!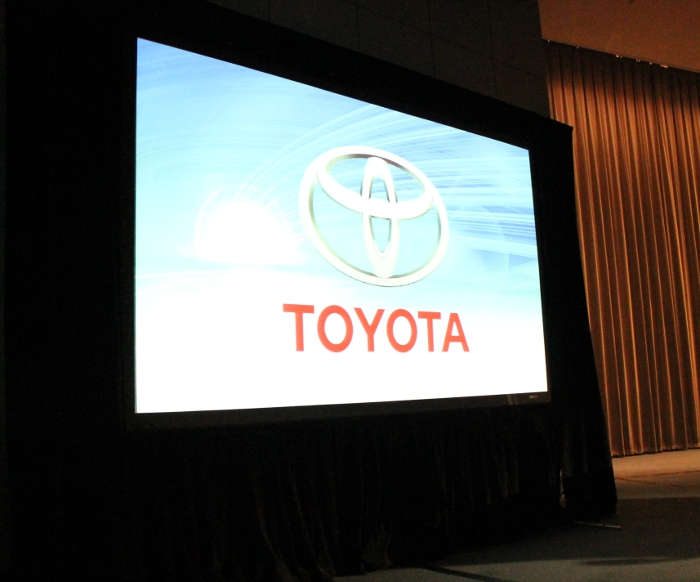 The next morning, I attended a breakfast hosted by the Chicago Automobile Trade Association and the Midwest Automotive Media Association. We dined on a breakfast buffet including red velvet muffins while listening to a number of talks, including one from Robert Carter, the Senior Vice President of Automotive Operations for Toyota Motor Sales, USA Inc. He discussed everything from Toyota's 2014 sales forecast to why you should never let a NASCAR driver borrow your car.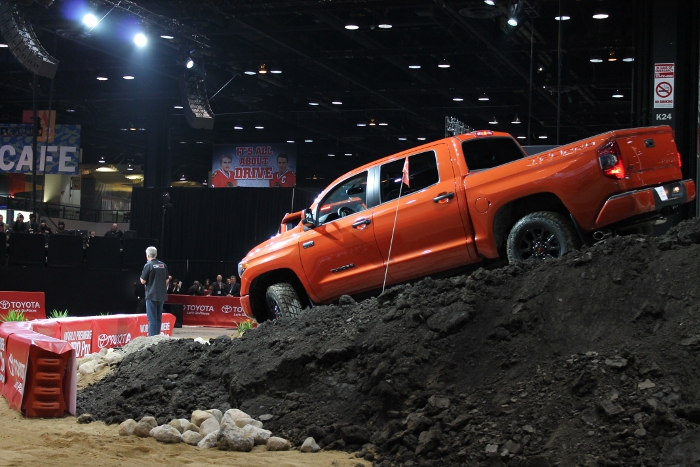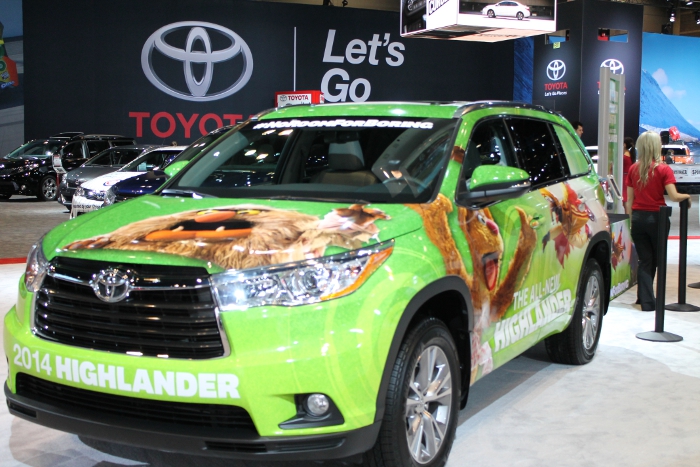 After breakfast, I had a busy morning full of press conferences and displays to view at the Chicago Auto Show Media Preview, from the Toyota Test Track and Muppets SUV to the debut of Captain America's car. This helped me work up my appetite for the Economic Club of Chicago Luncheon.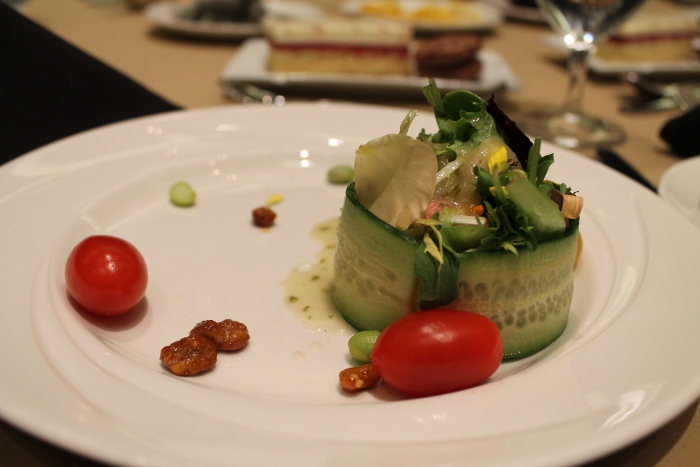 We were served a pretty cucumber salad, some chicken that I wasn't crazy about, and dessert. No one seemed to like the hazelnut macaroons but me!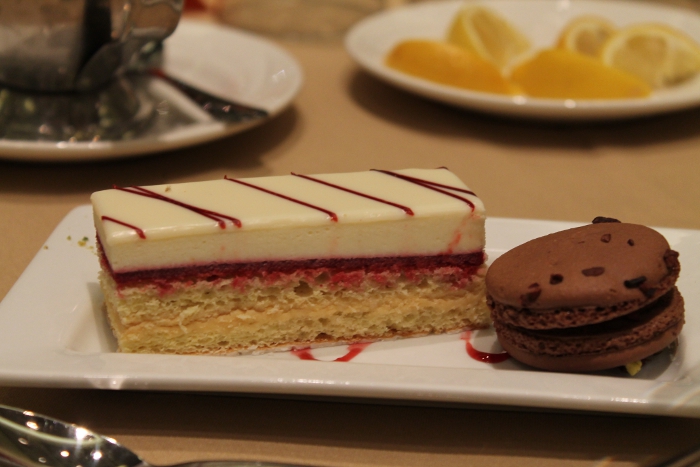 The main speaker for this luncheon was Joseph Hinrichs, Executive Vice President & President of The Americas at Ford Motor Company. I also heard him speak during a lunch in December when I attended a Ford News Briefing in Dearborn, Michigan.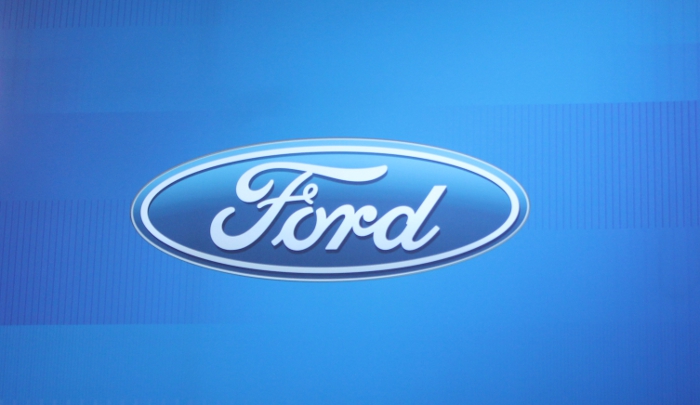 After lunch, I spent some time gawking at the million dollar car, and then stopped for a mid-afternoon snack from Chrysler!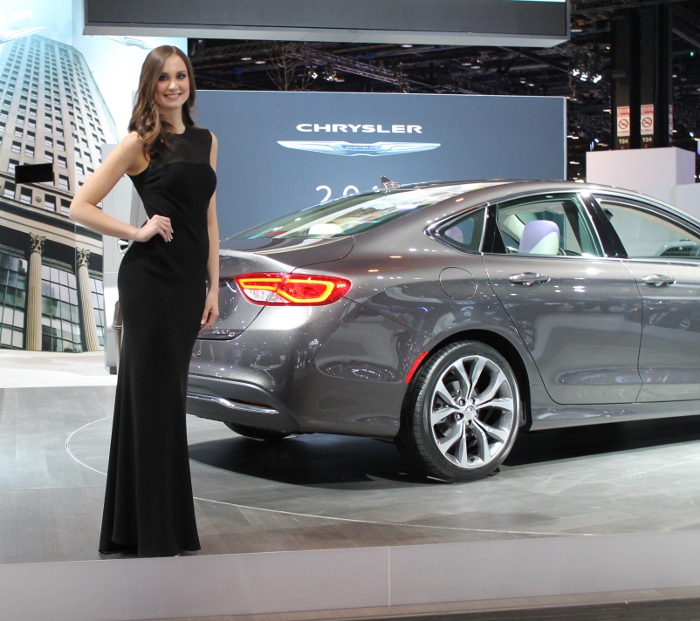 The Chrysler 200 Snack Break celebrated the 2015 Chrysler 200 by importing 200 snacks from Detroit. They offered goodies from Sanders Fine Chocolates including chocolate covered espresso beans that kept my energy up during the trip home and yummy chocolate fudge bumpy cake that was a big hit with everyone! I also brought home a bag of pistachios as a souvenir for Jai, and unfortunately I'm not sure who made those since we threw out the bag.
Later that day, several friends and I decided to get a cab to Giordano's Pizza for dinner. I was excited to see another tiny piece of Chicago during a packed trip, and I couldn't wait to have my first taste of real Chicago pizza!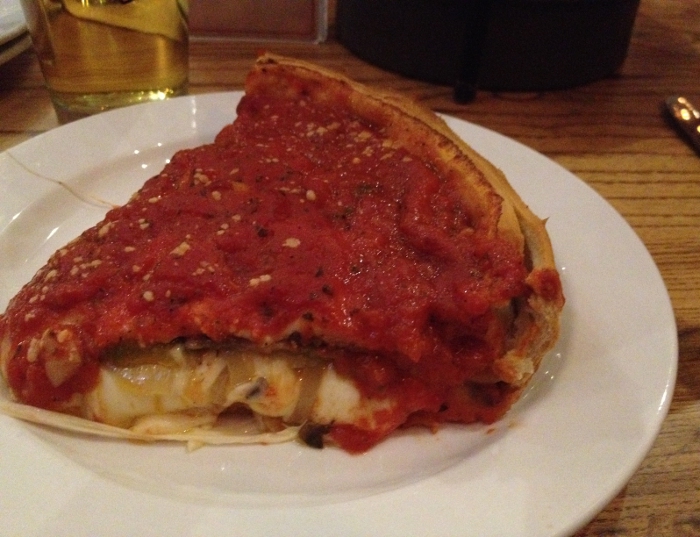 I ordered a traditional deep dish Chicago-style pizza, and it was everything I could have hoped for! So, so, so good! The thick crust was truly a "Pizza pie" and smothered in so much cheese – heavenly! I was absolutely, positively stuffed after one slice, but I insisted on a to-go box even though I wasn't sure if I'd have room to take it home. You know how much I hate wasting food!
The day closed out with the Subaru Sweet Home Chicago 2014 party. This shindig had snacks by the barrel-full – and I mean that literally:
I was sorry that I was so unbelievably stuffed from the pizza, because they had so many delicious-looking goodies on hand! As the evening went on, I eventually made room to try a Subaru lollipop:
Or to be more accurate, a gluten-free, caramel-coated chocolate lollipop with sea salt. I've never been too big on the idea of salt and chocolate, but this was so good that I had seconds even though I was still full from the pizza. I also had an RC Cola Chocolate Cupcake!
After a late night at the party, I got about an hour of sleep and then got ready for the WOMMA "Driving Engagement" Award Ceremony & Breakfast. The most memorable part of my breakfast was the fact that it ended up all over the floor! There were no tables, and trying to eat off your lap while listening to a speaker and taking notes/photos = awkward. The disaster actually occurred before the ceremony started, when I put my plate down on my chair, since there was no where else to put it, and left the room for a minute. The chair appeared to be a flat surface, but apparently after I turned my back, the plate slid right off and splattered all over the floor! Several other media cleaned it up and Louise fixed me another plate, so when I got back I had no idea what happened until they told me. I sure know how to make an impression!
We had a little more time to look around, and then it was time to head back home. Since Louise and I had flights leaving around the same time, we had time to get lunch in the airport. We decided on Chili's, and I had a very memorable adventure in the middle of the meal. I asked the waitress where the restroom was, and she said something about it being around the corner, but I looked and couldn't see anything. I had to ask a second time, and she pointed across the restaurant to the rest of the airport, where I spotted a men's room sign. I made my way out of the restaurant and towards the sign, and I saw that the men's and women's rooms were divided by a revolving door. So, I walked through the door, used the ladies' room, and then headed back for the door when I saw a security officer who said, "You can't go back through there – you left the secure area. You have to go through security again." What?! As it turned out, there was yet another restroom that was hidden around the opposite corner that the waitress was talking about, but since she was pointing at a different sign to a second bathroom on the other side, I didn't realize there was more than one. And for whatever inexplicable reason, the airport thought it was a great idea to split up the restrooms so that the men's room was inside the secure area, but the women's room was not. As I discovered later, there was a sign on the very opposite side warning that you were about to leave the secure area, but since there wasn't one near the revolving door I exited, I had zero idea. I was panicking about having to go through security again since the first line had been so long – will I miss my flight? What is Louise going to do, stuck inside the restaurant with my suitcase? All I can say is thank goodness I took my purse with me, or I wouldn't have had my ID and boarding pass. Mercifully, the second time through security was way faster and I made it back over to the restaurant in maybe 20 minutes. My food had naturally arrived by then and was a bit on the cold side, but it was still pretty tasty.

That day proved to be very adventurous all around, since I arrived back in Portland to a freak snowstorm that made the roads impassable. Since Jai couldn't come to pick me up – as the storm continued, Portland ended up issuing an emergency warning advising everyone to stay home because it was so dangerous – my awesome soon-to-be-in-laws ended up braving the road in chains so that I could stay at their house until the snow melted. I ended up snowed in Portland from Friday night until Monday morning! It was crazy – the only clothes I had with me were thin business suits, so I ended up having to borrow clothes from my sister-in-law so I wouldn't freeze. When the roads cleared enough on Monday morning that the busses started running again, I layered pajama pants with one of my suits so I wouldn't be cold on the way home!

But the funniest part? I did manage to take my Giordano's leftovers with me, since my suitcase conveniently has a pizza-box size pocket. I ended up eating my delicious leftovers over the course of several days while I was snowed in the house. Pizza: The perfect sustenance for snowstorms!