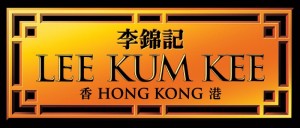 Samples provided for review.
In addition to sending me chili sauces for review – more on that here - Lee Kum Kee also sent me some Ready Sauces to try, specifically Broccoli Beef, Kung Pao Chicken, Mongolian Beef, and Orange Chicken. A photo of their Kung Pao Chicken is below.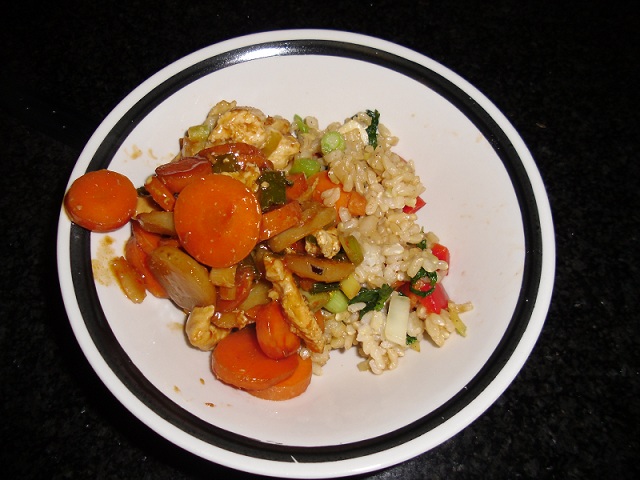 I'm always looking for ways to save money by cooking at home, and these sauces were all delicious and easy to use: all I had to do was dice some easily-accessible ingredients and fry them up. I made a big batch of chicken and beef dishes on Sunday, and was enjoying home-cooked meals with rice and pasta all week long.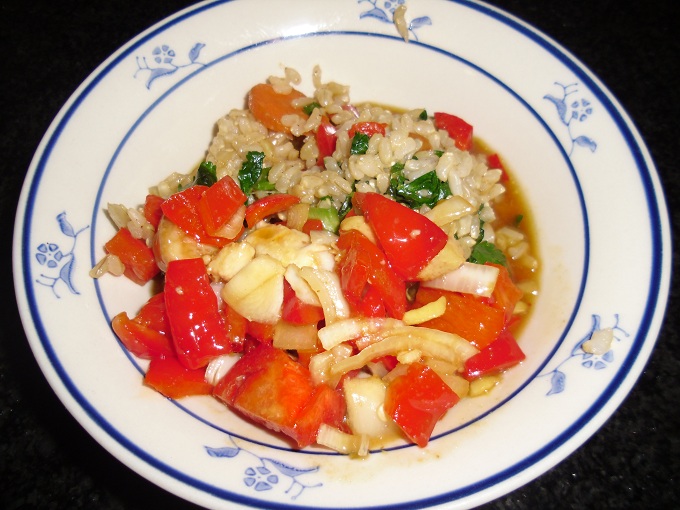 My favorite was the orange chicken, which I enhanced by adding the fresh-squeezed juice of 1 orange, along with garlic and ginger — you can see those big chunks of garlic and ginger in the photo above. Those ingredients really made the flavor of everything pop!
I also found myself really liking the Mongolian beef — it was a bit spicier than I expected, though not unpleasantly so. As you can see from the photo above, this is REALLY simple to make: just 3 ingredients!
To make my meals more nutritious, I had vegetable stir-fried rice as a side with most of these dishes. I'll share the recipe for that below.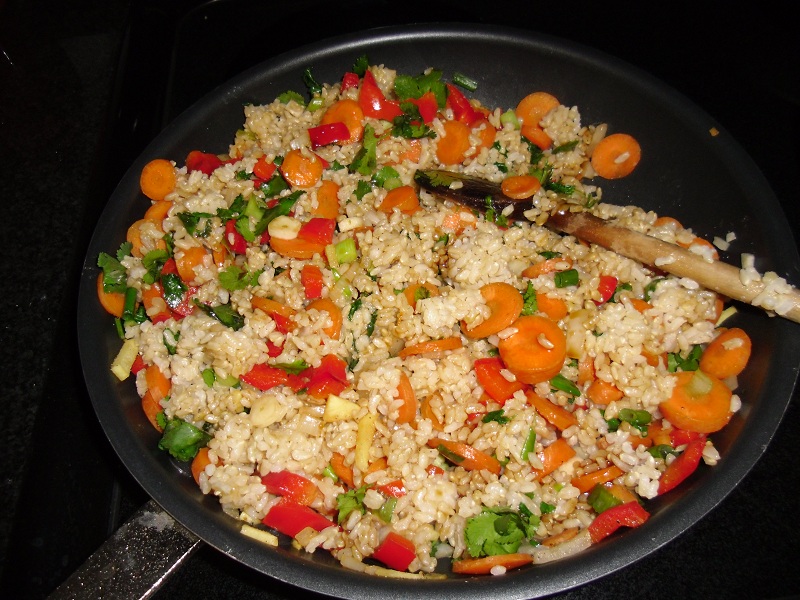 Ingredients:
3 cups cooked brown rice
1/4 large onion, diced
1 red bell pepper, diced
3 carrots, diced
5 scallions, diced
10 sprigs cilantro, leaves only
3 cloves garlic, diced
one 1″ cube of ginger, diced
2 tablespoons light soy sauce
3 tablespoons Lee Kum Kee oyster sauce
Black pepper, to taste
Olive or sesame oil, to taste
Steps:
Fry carrots, bell peppers, and onions in oil for 5 minutes, until the bell peppers start to soften slightly.
Add scallions, cilantro, garlic, and ginger. Fry for 2 minutes, until aromatic.
Slowly add the rice, a handful at a time, so that it doesn't clump. Stir carefully with a wooden cooking spoon.
Add pepper, soy sauce, and oyster sauce. Cook an additional 10 minutes, until the carrots soften and the flavors are thoroughly mixed.
Everything I tried from Lee Kum Kee was delicious. Combine their Ready Sauces with some protein and boil some noodles with frozen vegetables for a complete, hot weeknight meal you can make in less than 40 minutes!
Look for Lee Kum Kee Ready Sauces in a grocer near you, and be sure to check them out on Facebook, Twitter, Pinterest and YouTube!