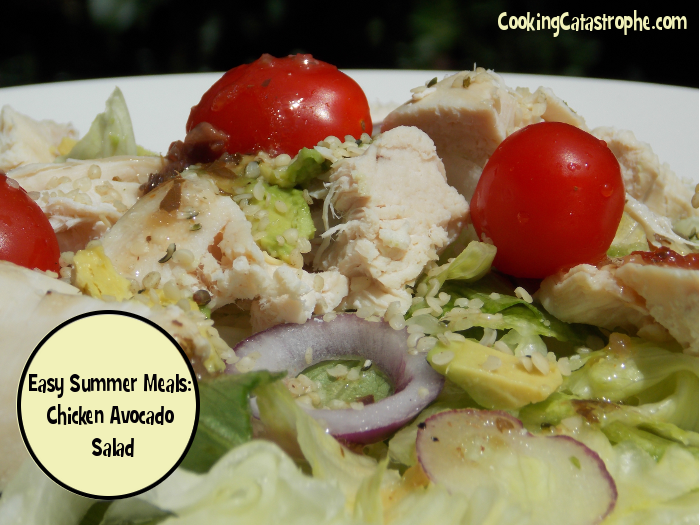 Finding truly easy recipes can be more challenging that I'd expect. Sometimes, I'll be reading a "Quick and simple" recipe that cheerfully informs me that it has
only
an hour and a half of prep time. Which is great, but I'll be sitting there thinking, "I haven't even had time to shower today, and you want me to spend half an hour chopping asparagus?" So, I thought it would be only appropriate to share some of my "No-brainer" recipes on here. When I say quick…
I mean really quick!
The chicken avocado salad which I'm about to share with you is great because it's simple, full of veggies, and ideal for hot summer days when you really don't want to turn on the oven. I will also be sharing hints on how to make a big batch ahead of time so that you've got salad ready to go all week – summer always seems to be crazy, so if you're looking for a quick option to serve your family on hectic evening that doesn't involve a trip through the drive-thru, this might help.
Ingredients
1 package of boneless, skinless chicken breasts, boiled
1 head of lettuce
1 jalapeño
1 red onion
1 avocado
1 package of grape tomatoes
1 packet of hemp seeds
Salad dressing
Instructions
Chop lettuce head and add finely chopped jalapeño and red onion to taste. Top with chunks of avocado, grape tomatoes, and chopped chicken. Finish with a sprinkling of hemp seeds and your favorite salad dressing.
http://www.cookingcatastrophe.com/chicken-avocado-salad/
How to Make This Salad in Bulk & Save Time
As I mentioned above, I make a big batch of this salad all at once so that Jai and I have an easy meal we can grab all week. Here's how I keep the salad fresh while cutting down on prep time: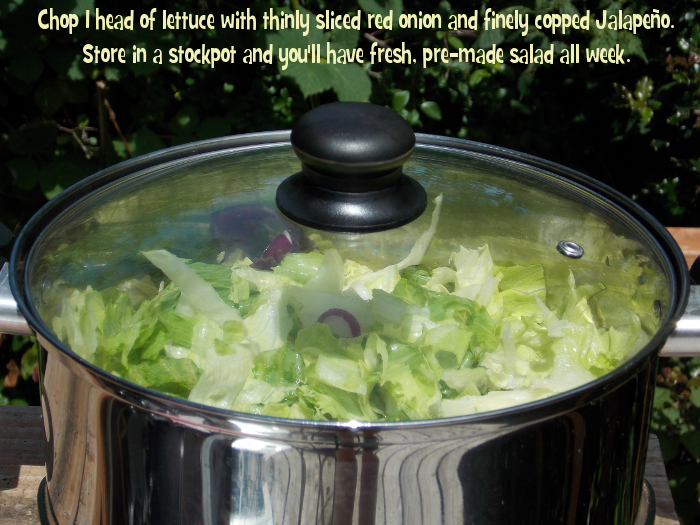 Chop 1 head of lettuce with thinly sliced red onion and finely copped Jalapeño. Store in a stockpot and you'll have fresh, pre-made salad all week.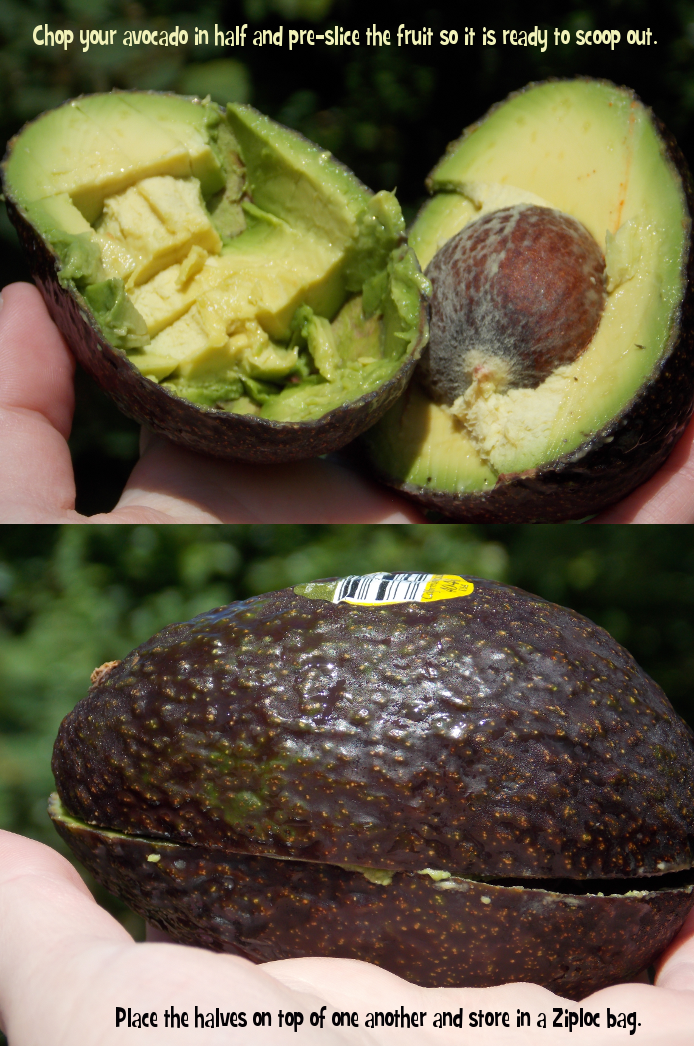 Chop your avocado in half and pre-slice the fruit so it is ready to scoop out; place the halves on top of one another and store in a Ziploc bag.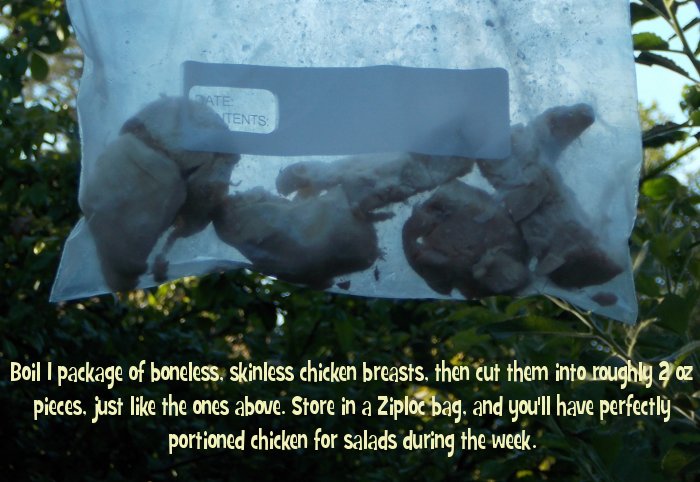 Boil 1 package of boneless, skinless chicken breasts, then cut them into roughly 2 oz pieces, just like the ones above. Store in a Ziploc bag, and you'll have perfectly portioned chicken for salads during the week.
When you're ready to eat, just grab your stockpot full of salad and dish up a plate. Top it with one of your chicken portions – you can tear or chop it up on your plate – then add avocado and a few grape tomatoes; I store a container of pre-washed tomatoes in my fridge so they're all ready to go. Top it off with a sprinkling of hemp seeds and dressing. Done!
Nutrisystem-Friendly: This salad is great if you're following the Nutrisystem program – I chop each chicken breast into 2 oz pieces since that's equal to one PowerFuel on the plan. Then I can just grab one out of the bag and know that it's already been weighed and is ready to go. 1 tablespoon of both avocado and salad dressing count as a limited "Extra"; I'm not sure about the hemp seeds, but I personally treat them as an extra just like sesame seeds – you could easily omit them, however. I'd highly recommend trying this salad with your lunch, especially if you're just starting Nutrisystem, since it's so tasty and you can really bulk it up with veggies to fill yourself up.
So there you have it: One of my go-to, easy summer meals. What simple recipes do you like to make during this time of year?
As a food blogger, I love to make delicious recipes - but real life doesn't always look like Pinterest! From the triumphs to the tragedies, this blog is dedicated to the funny side of cooking.
Latest posts by Beeb Ashcroft (see all)