A complimentary meal kit was provided for review.
I recently discovered a cool Portland-based business called Local Plate, which creates dinner kits boasting ingredients from local farms and stores. These kits are seasonal and updated regularly according to what the farms have available that week; you can place your order online and either pick it up at Know Thy Food or opt to have it delivered straight to your door. Now, I live in Seaside, but since we have been spending so much time in Portland this month, I thought it would be fun to give the service a whirl and cook up one of these dinners over bachelorette weekend!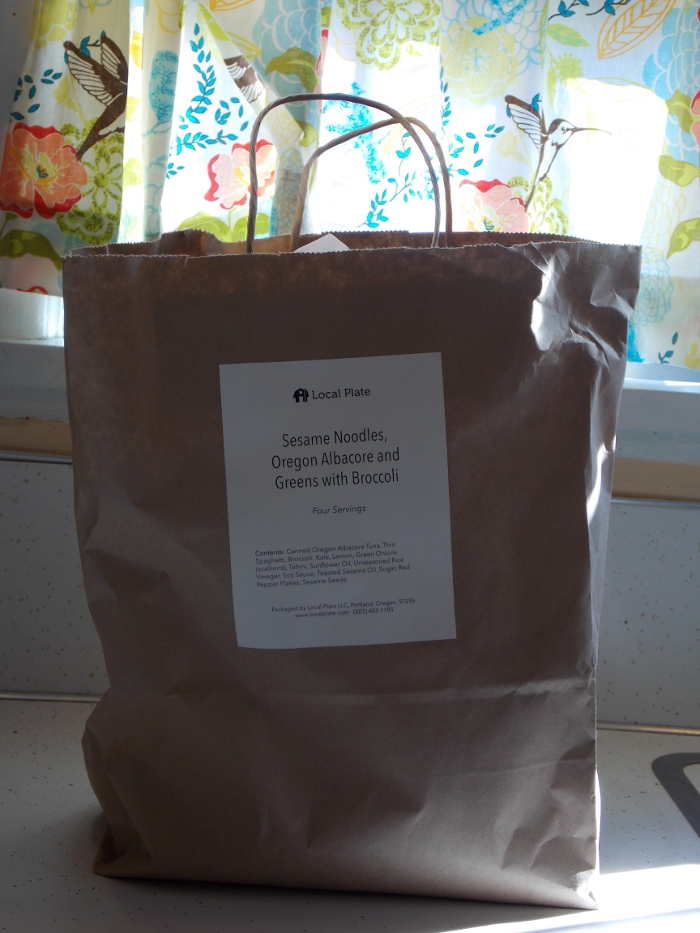 Ordering was effortless: I just logged onto the site, chose a meal kit – we decided on the sesame noodles with Oregon albacore, greens and a side of broccoli – and scheduled it to be delivered to my in-laws' house where we were staying. If you're not home when they deliver, they will leave the food in an insulated bag on your porch, which I thought was nice; they also give you a space on the order form to enter any special instructions they should be aware of to make delivery easier.
Local Plate delivers on Monday and Thursday, so I opted to have them drop off the meal kit on Thursday and made the dinner on Saturday before I left town, since the kits keep for 7 days.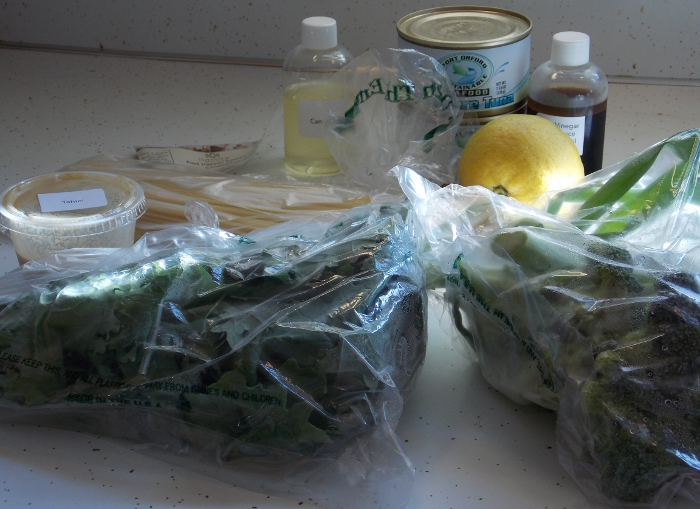 This meal kit included everything you need to make dinner for 4 people except for salt, pepper, and olive oil; though honestly, if I was in a pinch I think I could have adapted this kit's ingredients and made it even without the olive oil. The best part is that everything is pre-measured, so it's all ready to go; some of the ingredients have even been combined when applicable, such as rice vinegar/soy sauce/sugar/sesame oil in one bottle. I was pretty punchy by the time I set about making this, since I had hosted the bachelorette party the night before and just walked in the door from the tapas competition that afternoon, so when I looked over the recipe included with the kit, my first thought was: That's a lot of words.

However, it was actually very straightforward and quite simple to prepare, even in my sleep-deprived state. Looking over the recipe today, I have to laugh, because I was so out of it that I totally misread some of the directions. I only cooked the whites of the scallions because somehow, I didn't even see the part about adding the greens of the onions to the noodles. And because I am crazy, and tired, and crazy tired, I added the entire pan of chili oil instead of 2-3 tablespoons. Fortunately, this did not make it too hot or ruin the recipe – I honestly didn't even realize I messed anything up until I reviewed the recipe again while writing this. Ha!!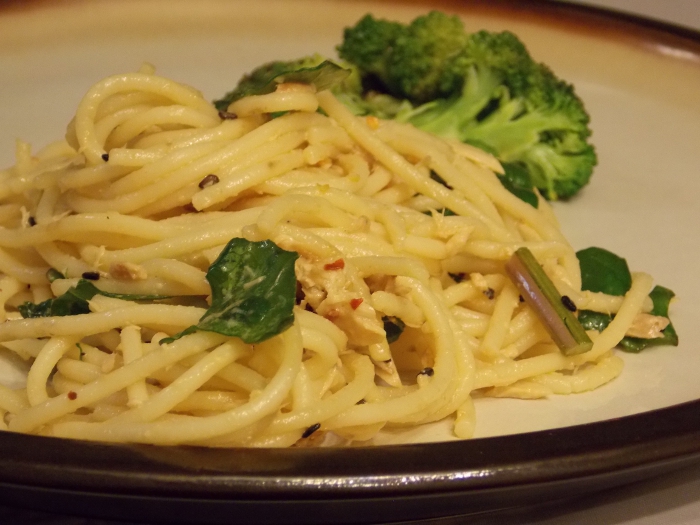 This dinner was delicious! This makes a fresh, cold noodle dish mixed with albacore, spicy sesame seed tahini sauce, green onion and kale. The side was simple and tasty broccoli with lemon zest. It was really, really good!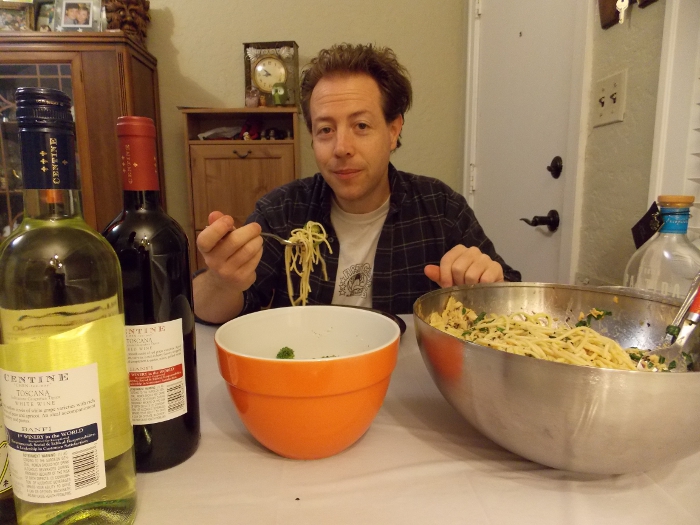 Jai enjoyed seconds!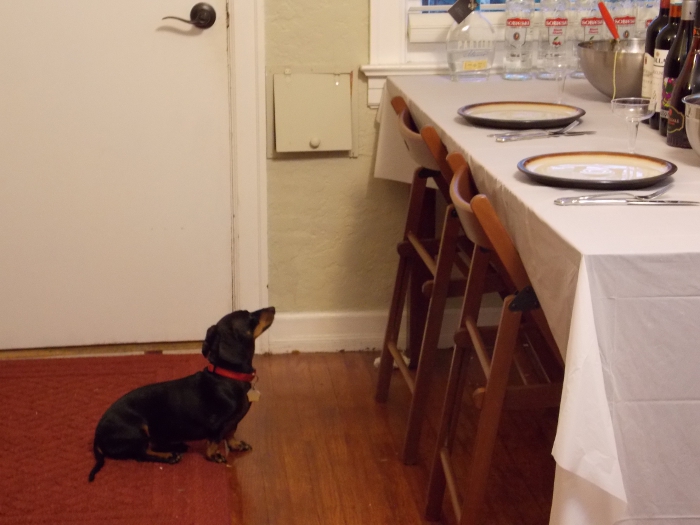 For the duration of the evening, Stella the foodie dog kept trying to sneakily jump up on the table to get to the bowl of noodles. Local Plate: So good, you'll spend the whole evening whining and scheming to get a bite.

When Local Plate said that this recipe makes "Quite a bit", they aren't kidding. The broccoli portion was modest, but the noodles made a HUGE bowl! We left the rest of in the fridge for Jai's brother and sister-in-law to enjoy.
This meal kit retails for $40, which includes free delivery. $10 per serving is more than I would normally pay for a dinner since I'm cheap frugal, however this service is a little different since the food is locally sourced. The onions came from the Gathering Together farm in Philomath, the albacore is from the southern Oregon coast via Port Orford Sustainable Seafood, with the seasonings coming from Portland's Savory Spice Shop and other unlisted local retailers. I believe in supporting local businesses whenever I have the budget to do so, and I really love the concept of Local Plate. I was also impressed that they could afford to include delivery in the meal cost. I honestly think they ought to be charging danger pay for having to navigate through Portland's labyrinth to deliver these meals!

If you're in Portland, check out the new meal kit offerings weekly on LocalPlate.com.
As a food blogger, I love to make delicious recipes - but real life doesn't always look like Pinterest! From the triumphs to the tragedies, this blog is dedicated to the funny side of cooking.
Latest posts by Beeb Ashcroft (see all)