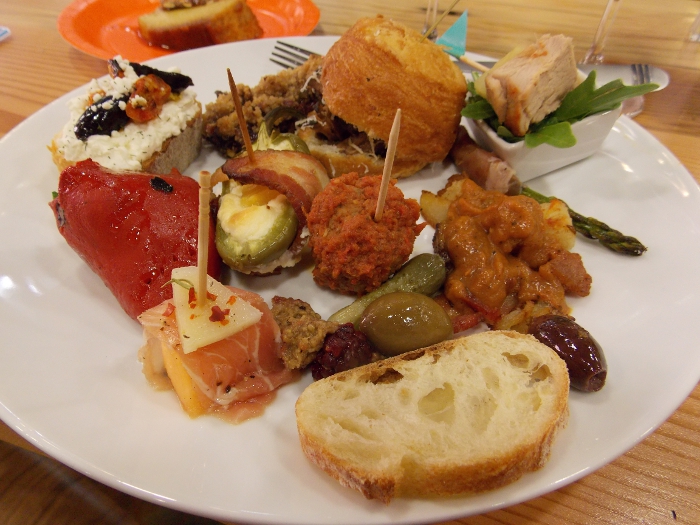 Complimentary admission, refreshments & goodie bags were provided!
Yesterday, I attended a local food blogger event at the Pearl District Whole Foods Market in Portland. This fun gathering included a wine tasting and tapas competition. Each blogger brought their own unique tapas dish to share, and the dishes that received the most votes from attendees would take home some fun foodie prizes. I had already planned to be in Portland this weekend because I was throwing my sister-in-law's bachelorette party on Friday night, so when I heard that this event was taking place on Saturday afternoon, I just had to go since I am crazy like to make the most of my trips. Marlynn of Urban Bliss Life said, "You look way too rested for having been at a bachelorette party last night!" I told her that I just wear good makeup.

Going to a foodie event should have been intimidating, especially since I've never made a true tapas dish before. But my goal was merely to make a nice dish and enjoy myself, so I wasn't worried about it being perfect or winning a blue ribbon as long as it tasted good. After some Googling, I decided to make Aceitunas a la Sevillana, since it was a fairly traditional tapas dish that is meant to be served at room temperature. This was important, because I knew that if I had to travel with something that had to be served hot or cold it would be a mess. I paired the olives with a loaf of my homemade bread: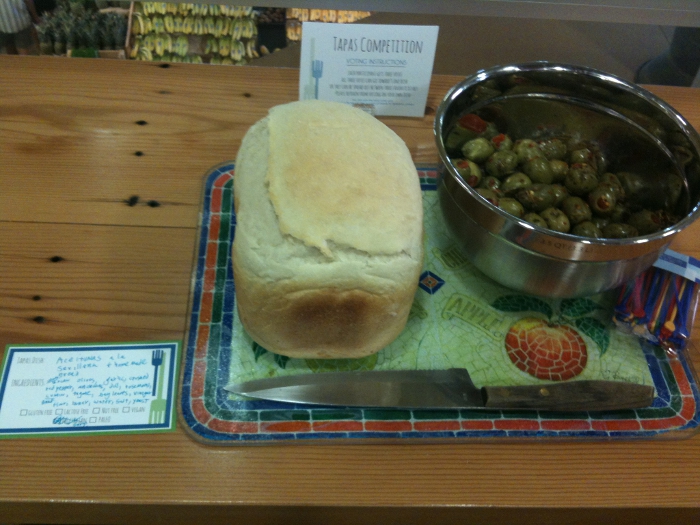 Since I was staying with my in-laws for the party, I brought my breadmaker along and baked a loaf the morning of the tapas event so that it would be fresh. I also made a second batch of the olives and had a conveyor belt of bread going all weekend for the bachelorette party, so it all tied together nicely! I was satisfied with how my simple dish turned out, although I was face-palming afterwards when I realized that I forgot to bring the giant slab of butter I bought specifically for this event.
Duh!
I suppose people could put the olives on top of the bread, but it would have tasted about 10x better if I had actually brought the butter. I suppose this wouldn't be Cooking
Catastrophe
without something silly happening, right?

Still, everyone was really nice, and Pechluck from
Pechluck's Food Adventures
even gave my bread a sweet shout-out on her blog. Aww!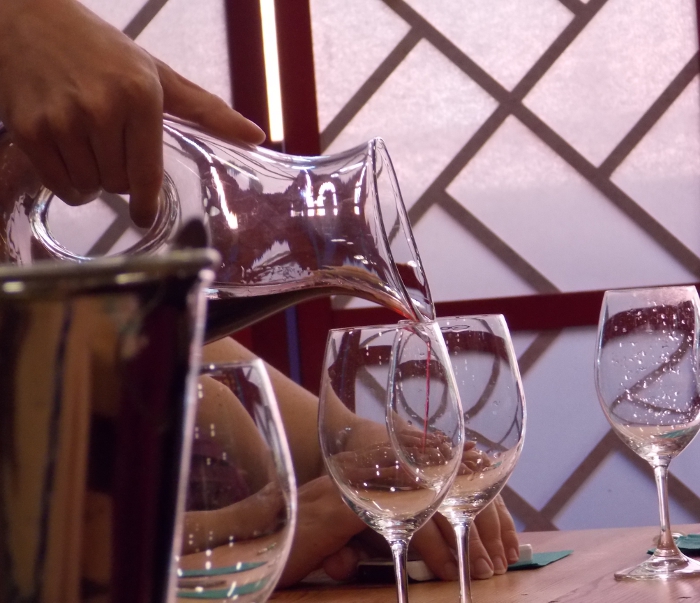 The event started off with a lovely wine tasting. Whole Foods wine expert Justin spoke with us about different types of wine, including facts about "Sherry law" that I found interesting. Did you know that "Sherry" is a protected name meant to only be used for wine produced in a specific region of Spain, and the only reason that you'll see American-made bottles called "Sherry" is because "Sherry lawyers don't have as much money as the Champagne lawyers", as we joked at the event. This might explain why they Sherry I tasted at the event was so different than what I'm used to – it wasn't extremely sweet, like the bottles my family and I traditionally pick up around Christmastime.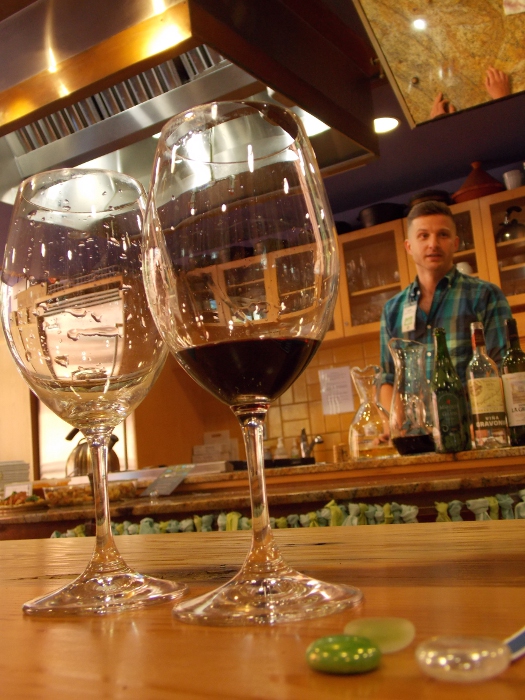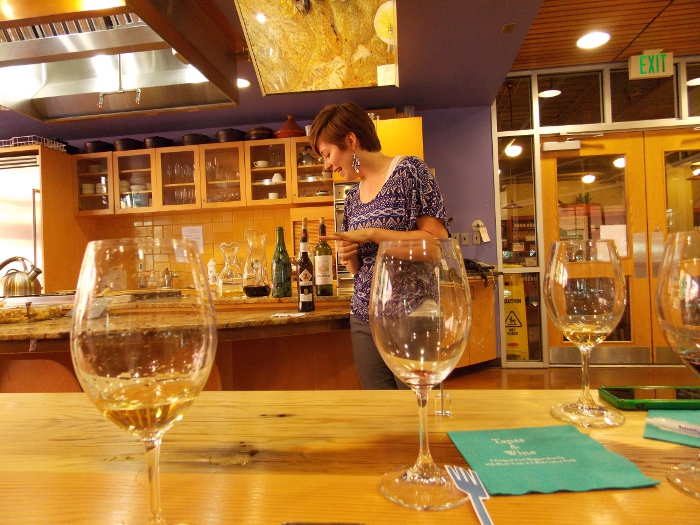 After the wine tasting, Bee of
The Spicy Bee
talked about the history of tapas. Bee and I sat next to each other, which was fitting and also caused some funny miscommunication when people said our names since "Bee" and "Beeb" are so close phonetically!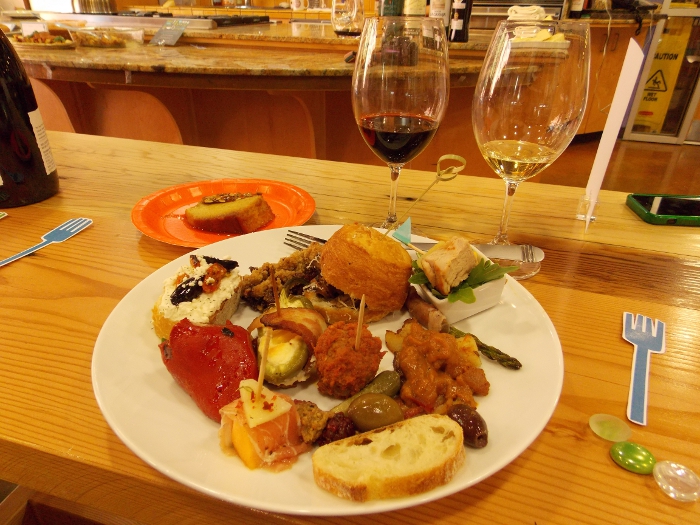 As I expected, the event was full of
amazing
food. There were so many delicious and unique tastes, from spicy stuffed peppers to berry crisps to a cronut stuffed with meat. A "Cronut" is the newest food craze that people are lining up to taste – a combination croissant and donut. I can't think of anything more Portland than a meaty cronut! Every single thing I ate was absolutely divine – and all the appetizers were so big that it was like eating a full dinner! I took so long eating that I accidentally missed the voting period, but I was actually glad because I don't know how I could have chosen a favorite.
It was so fun meeting new bloggers, connecting with some "Face-to-face" for the first time, and even discovering some unexpected connections. I was chatting with Rachel of Tossing The Script, who said, "So you're from Seaside – do you know (Name of one of my dear friends)?" I said, oh my gosh, I do! It turns out that Rachel knows my friend because she went to school in France with her. (This is the same friend who was waiting for her flight when I made my sugar-free fail!) I visited this friend twice while she was living in Poitiers, so Rachel and I realized that we must have met briefly all those years ago. Is this a small world, or what?!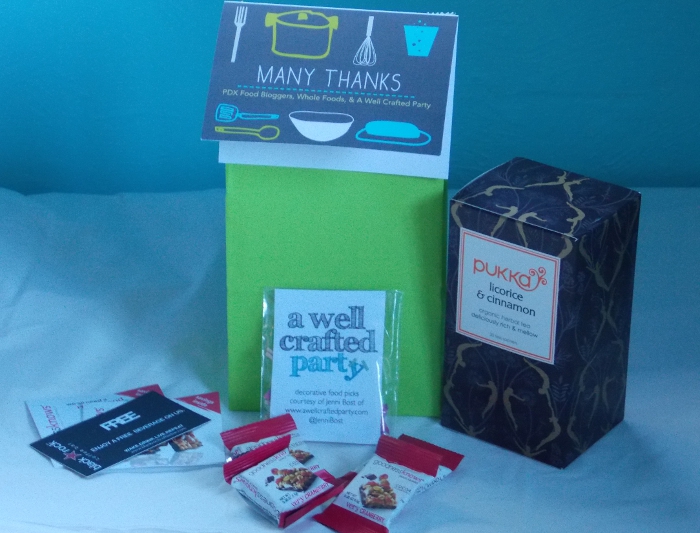 As we were leaving, we were provided with fun gift bags as a thank-you for attending. They included decorative toothpicks from the organizer of the tapas event, Jenni at
A Well Crafted Party
; a free coupon for
Black Rock coffee
; a box of
Pukka Licorice & Cinnamon tea
(I brewed a cup of this today and it was nice!), and some yummy
Goodness Knows Snack Squares
. The bag was topped off by a cute card from
Tiny Prints
, who provided all kinds of cute napkins and placecards for the party. Appropriate, since the business cards which I brought to the event are
also
by Tiny Prints!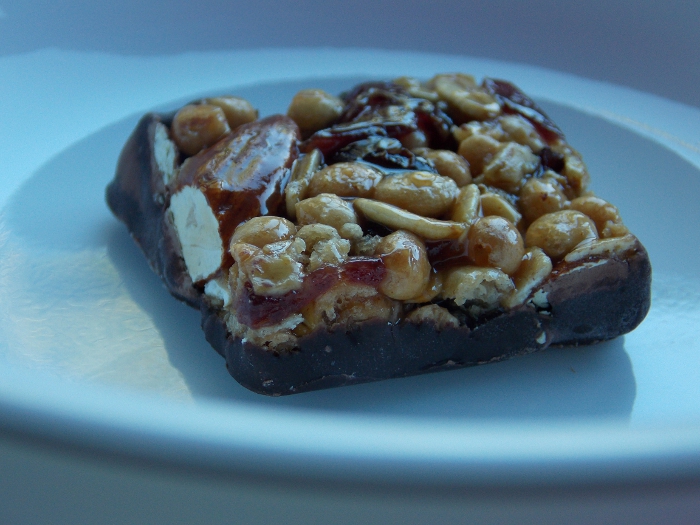 If you'd like to make your own simple tapas spread, here's how I made mine:
Ingredients
16 oz jar of green olives
2-4 anchovy fillets
4 TBSP. white balsamic vinegar
4 cloves of garlic
2 bay leaves
1 tsp. rosemary leaves
1 1/2 tsp. oregano leaves
1 1/2 thyme leaves
2 tsp. crushed red pepper
1/2 tsp. cumin
Instructions
Adapted from this Spanish Marinated Olive Tapas recipe on GumboPages.com
Strain the olives over a bowl, reserving the water; place the olives back into the jar. Peel the garlic and add to the jar along with the anchovies, seasonings, and vinegar. Pour reserved water back into the jar until filled, screw on the lid, and shake the jar. Place on a counter to marinate for about 4 days, then store in the fridge for at least 3 days. Serve at room temperature.
http://www.cookingcatastrophe.com/pdx-food-bloggers-tapas/
As a food blogger, I love to make delicious recipes - but real life doesn't always look like Pinterest! From the triumphs to the tragedies, this blog is dedicated to the funny side of cooking.
Latest posts by Beeb Ashcroft (see all)